SOME WORDS ABOUT US
Well-coordinated teamwork speaks About Us
Chief Educator
梅康妮 Corinne Mui
DipWSET, 酒サムライ (Sake Samurai), M.Com, B.Com
– WSET Certified Wine & Sake Educator and Assessor
– WSET Educator Training Programme Assessor
– VDP Ambassador
– Greek Wine Ambassador – Asia
Certified Educator of:
– Sud de France Master Level Programme
– Rhone Valley Wines
– Bordeaux Wine School
– German Wine Academy
– Australian Wine Discovered
– Barossa Wine School
– Wines of Chile Academy
– New Zealand Certification Programme
– Wines from Spain Academy
– Rioja Wine Academy
– Academy of Wines of South Africa
– Sake Sommelier Association
-Capstone California Wine Certification
Corinne Mui is an award-winning wine & sake educator and writer. She is a regular contributor for publications across Asia.  She has appeared as guest wine and sake expert on television and radio programmes in Hong Kong and China. Her expertise in wine has also been sought for a popular Hong Kong television drama. Corinne has also been appointed as a judge in many wine and sake competitions in Europe, Australia, China and Hong Kong.
Corinne gained valuable wine-making experience by working at the world-famous Henschke winery in Eden Valley, Australia. She has also made sake vintages at various sake breweries in Japan's Niigata, Yamanashi and Ehime prefectures and the Kansai region.
Sommelier Awards:
2019 – 16th of A.S.I. The Best Sommelier of the World Competition    
2019 – Champion of The Best Sommelier of Hong Kong    
2019 – Champion of Belt and Road Asian Sommelier Competition
2018 – 1st Runner-up of A.S.I. Asia-Oceania Best Sommelier Competition     
2018 – 2nd Runner-up of Gaggenau The Best Sommelier Greater China
2017 –  Champion of The Best Sommelier Greater China
2016 –  Champion of The Best Sommelier Greater China
2015  –   2nd Runner-up of The Best Sommelier Greater China
Reeze Choi is the founder of a sommelier services and wine consultancy company, Somm's Philosophy. He is an Advanced Sommelier of The Count of Master Sommeliers, holder of A.S.I diploma – Gold, WSET Level Three Award in Wines and the Certified Specialist of Wine Certification.
Meticulous about his service and knowledgeable on food and beverage, Reeze is one of the most sought-after sommeliers in Asia. He has worked at prestigious restaurants such as L'atelier de Joël Robuchon Hong Kong and Upper Modern Bistro. His acquaintance with various cuisines and beverages—from French menu, cheese and coffee, to Cantonese dishes, sake and tea—has invested him with the ingenuity in curating original drinking and gastronomic experience for his guests. Reeze joined the Star Wine List as their Hong Kong Ambassador in 2019, and thereafter, has introduced the world some of the best wine places and stories in Hong Kong. Having been the ambassador of Château de Meursault and Château de Marsannay, he has shared ample insights in Burgundy wine with the field.
Educator
陳効謙 Lawrence Chan
DipWSET
– WSET Certified Wine & Spirits Educator and Assessor
– Barossa Master
– Whisky Ambassador
Certified Educator of:
– Barossa Wine School
– Rioja Wine Academy
Lawrence Chan is an experienced Wine Educator. Passionate about wine, he obtained numerous qualifications during his years in teaching, such as the WSET Level 4 Diploma in Wine and Spirits and Level 3 Award in Spirits, Australian Wine Discovered, Barossa Wine School, Rioja Wine Education Programme, etc. In 2021, he became a certified WSET Level 3 in Wines and Level 2 in Spirits educator certification. He is also a Whisky Ambassador.
Lawrence has travelled to some of the world's major wine regions such as Champagne, Alsace, Barossa, Barolo and Barbaresco, where he met and shared lots of experience with local wine professionals. He is keen to visiting more wine regions in future so he could share more first-hand experience and up-to-date knowledge with his student.
Advanced Sommelier (CMS)
Diploma Silver (ASI)
Certified Specialist of Wine (SWE)
Certified Specialist of Spirit (SWE)
French Wine Scholar (FWS)
Certified Sake Sommelier (SSA)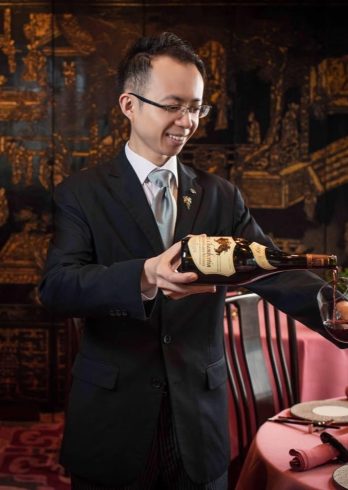 Nick Koon is an experienced sommelier in Cantonese cuisine. He served at various Michelin-starred Chinese restaurants in Hong Kong and Macau including Ming Court, Man Wah and The Eight. His last position in town was head sommelier in Mandarin Oriental Hong Kong. Nick is keen on creating interesting dining experience for guests through his wine programs and pairing menus. He has wealth of wine pairings and service knowledge to share in class.